Bring your dull furniture back into your life
I
nstantly!
Keep your wood furniture looking new! 
Return your furniture to its new appearance, with Beewax by applying a layer and waxing you will see the results in just minutes.
Give your wood furniture a conditioning treatment to revive it with this amazing wood seasoning Beewax. This is an easy-to-apply remedy that will keep your wooden tools in top condition to help them last many years.
Bring your furniture back to your life;
Repair and restore the beauty of wood;
Wipe away years of dirt build-up;
Polishes wood to give them that shine;
Good on all wood surfaces;
100% satisfaction guarantee.
This Beewax not only cleans your wood furniture and wood cabinets but also polishes them to give them that natural shine! 
 #1 Magical Wood Seasoning Beewax!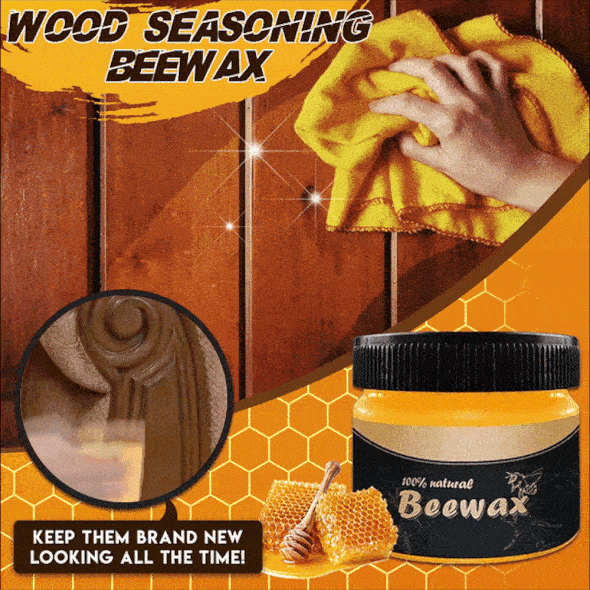 Natural shine:

This will give your wooden products an elegant shine and a smooth finish, keeping them in their prime for years to come.
Seals In moisture:

The revitalizing blend prevents drying and cracking of wooden surfaces as it repairs, rehydrates, and restores.
Protects wood:

C

reates a protective seal to keep out any odor, stain, moisture, and anything else that causes damage to your wood.
All-natural ingredients:

Naturally non-toxic and free from harmful chemicals.
Stain prevention:

Helps prevent stains, covers up knife scarring in cutting boards and makes cleaning easier.
Versatile:

The wax can also be used To clean and polish wooden floors.
Safety guaranteed:

Safe to use in the kitchen, on your baby cribs, and your kids' wooden toys.
★★★★★ 4.9/5 by our Customers
As per our customers suggestions, We launch our Exclusive 3 Pack combo offer!
90% of People Buying 
3 Pack of Magical Wood Seasoning Beewax!
 Get shine and a new look on all your furniture!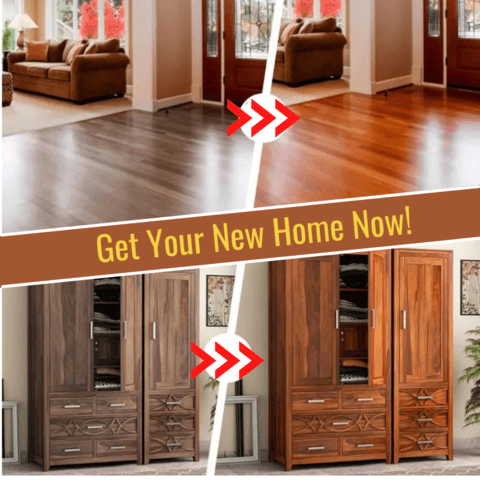 Used for artwork, furniture, flooring, stamp printed stone, wooden bracelets, etc. Also tested on leather-covered furniture.
It carries away any stains on your furniture, and it also helps prevent cracks on waxed surfaces.
How to use:
You only need to apply a small amount with a clean, dry cloth.
If your wood is dry and undernourished, allow the wax to sit and penetrate for a few minutes.
Buff any excess from the surface thoroughly with a clean, dry clothing.
Specification:
Ingredients: Natural beewax
Weight: 85g
★★★★★ 4.9/5 by our Customers
Can't believe the difference it made on my furniture! I have tried a lot of products to bring back the life to antique pieces I have, but this is the first one that delivered! Excellent product! I will order more.
This stuff is great. I live in a 120 year old converted church and the main stage-area has wood that looks like it hasn't been attended to in years - big dry patches that almost looked gray. Buffed everything with the wax, they look like brand new floors with zero spots. Great product!
This beewax has made our furniture look so much better. This is the 2nd time I have purchased it and I give the 5/5 for the beauty it brings out in the wood of our furniture, cabinets and front door. I will definitely buy more pieces again if they offer a combo offer...
What an amazing product. Not only does it work wonderfully on wood, but it's great for leather too! I highly recommend this!
I bought this for a table that belonged to my mother that is over 50 yrs. old. I am very pleased with the way the table looks after using this product!
I am afraid of Online buying. Do you have any Guarantees?

Buying items online can be a daunting task, so we want to help you to realize that there is an absolute zero risk in buying online from us. If you don't have a positive experience for any reason, we will do whatever it takes to make sure you are 100% satisfied with your purchase. 


What about shipping and delivery?

Our fulfillment partner fulfills orders within 3-8 business days (Mon-Fri), a timeline that does not include Weekends or Holidays. Please remember that the delivery of your order is the responsibility of the shipping carrier (USPS, FedEx, DHL). 


Can I buy the Wood Seasoning Beewax at any outlet?

Currently, we are selling only on this website. During a pandemic situation, it's safer for you to avoid physical contact and order products online.


After cleaning and drying the furniture, you just spread the beeswax on the furniture where you need to refurbish evenly with a sponge or rag, then dry it for about 30 minutes, wipe it repeatedly with a clean towel. Leave it for at least 16 hours. Please follow these instructions and your furniture will glow with health. It will look nourished and richer and your wood will most definitely feel the love.

Don't Miss it! Limited Stock Available!